Belgium
Association des Trésoriers d'Entreprise en Belgique (ATEB)
IGTA Membership:
Full Member
Date of association formation:
Date association joined IGTA: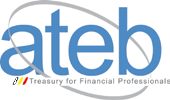 ---
---
---
Association General Enquiries
---
Association Technical Enquiries
---
Association Membership:
ATEB is the association of Corporate Treasurers in Belgium. This is an association of experienced professionals in the field of treasury management. It is not a corporate federation.
Membership Criteria:
The main goal of the association is to share experiences, practical cases and workable solutions, amongst its members, in a total confidentiality and secured environment. Our association gathers actually a hundred and eighty members.
Other Activities:
Although we want to remain a small organisation (as of April 2014 members by headcount – 130) in which we can openly participate and limit the overhead costs and administration, we always welcome new members who share the same principles as ours and are prepared to contribute to the association for the mutual benefit of all its members.
Association Journal and/or Publications:
The association started its activities in 1991 and now formally meets approximately every months to discuss identified subjects of common interest.